A Faster, More Efficient Way to Configure, Schedule, and Backup Large-Scale Environments
With the latest release, Zmanda has revamped the user interface (UI) from the 3.6 release. Zmanda has pushed out the 3.6 UI default styling that included the horizontal tab navigation policies (When, What, Where, and so on) grouped under the Backup tab. No doubt, users loved the sequential tabs navigation to move along a predefined route for backup configuration as it made sense to the users. But, not to worry. The good news is that this streamlined flow has been retained in ZMC 4.0 with a fresh new look!
The only pain point was the location of the backup-set in managing backups. But not anymore. Because, the navigation bar has undergone a drastic makeover!
The blog post walks you through the new features that ZMC 4.0 unveils. Also, this post covers the use cases on how to utilize those options while creating a backup set.*
*Note: To create a backup job, go to Backup-set → click on the Configure icon.
Introducing a Fresh, Organized, Look-and-Feel
The new interface of Zmanda 4.0 is beautifully designed with an intuitive navigation menu, featuring an array of action items inside the navigation panel. Now you need not switch between the tabs. In fact, you can easily locate the "backup-sets" area from the navigation panel for quick access. So now, administering a complete backup environment of several thousands of backup sets directly from the app's navigation panel is just a few minute's job!
Thanks to the new GUI of ZMC 4.0. The newly added bunch of new components are modeled using the JavaScript library called React JS. So now, all you can expect is superior rendering speed for your applications!
Well, take the first look!
Having visibility of the backup infrastructure is extremely crucial, especially when the backup task is triggered between the systems on a network. With the refreshed card-based layout of the UI that displays vital information in chunks, the new user interface accomplishes exactly that!
Since backup sets are an included feature in Zmanda backup engine, as an admin you can easily add or create a backup set and define specific schedules to save on bandwidth. But, before delving deep, let's first know what a backup set is.
What is a Backup-set?
To put it simply, a backup-set is a combination of groups of disk locations known as DLE's (Disk List Entries) or sources. A source specifies what data you can back up, what clients, what directories, databases, or applications are stored on each client.
Each DLE consists of several clients along with their partition types. For example, C: Drive or D: Drive in Windows or /var, /root in Linux, applications, file systems, or subdirectories. By default, you must create a backup server and an end-storage location before creating a backup set. Remember, that's a pre-requisite of creating a backup set.
Now that you know what a backup set is, let's understand the concept of cluster architecture that helps to execute the backup set application. Notably, ZMC 4.0 has recently added this new feature which is "cluster architecture" that allows linking multiple AE servers to the cluster from ZMC's single centralized console in the most convenient way. In effect, you can add multiple nodes to your system with multiple AE servers added to it.
Cluster Architecture – Upgrading from ZMC 3.6 to 4.0!
To repeat, Zmanda supports distributed cluster architecture. Certainly, an excellent perk of this upgrade is that you can link 1000s of enterprise backup servers instantaneously across the globe for managing backups! This gives you the flexibility to associate any number of backups with the same schedule plan that you have created. Besides, you don't need to create a customized schedule plan for the backup of individual backup sets.
With the cluster architecture as a flexible framework, you can greatly benefit from the fault-tolerant system. Fault tolerance is the ability to prevent disruptions arising out of single-point failure. That is to say, this architecture will work like a watchdog for all your backup sets! In fact, this cluster based framework offers fault recovery mechanisms for mission-critical applications or systems to ensure business continuity.
The cluster architecture setup is packaged with two sets of UI binaries and a separate backup server. So now, you can choose to install the backup server without the UI on any machine that you want.
Cluster Architecture Overview: ZMC 3.6 VS. 4.0
The key architectural differences of the cluster configuration between 3.6 and 4.0 are:
In ZMC 3.6, each backup server has its dedicated User Interface. As a result, you can add or create any number of backup-sets. However, you can access, modify, or take a backup of only one backup-set at a time. But now, with ZMC 4.0, you can add multiple backup servers to a single UI that controls all the backup servers.
In ZMC 3.6, the enterprise server includes packaged dependency. This means you must install the the backup server along with the user interface to get going. But, ZMC 4.0 includes the Zmanda enterprise server and shared dependencies for both the packages. Hence, you can download the free open source backup software for workloads from the  Zmanda network downloads page.
The installation was straightforward in ZMC 3.6. In this case, you must run the one .Run file to install the enterprise backup server. But ZMC 4.0 provides two .run files- one for backup server and another for UI.
This is how the cluster architecture looks like (shown in the screenshot below):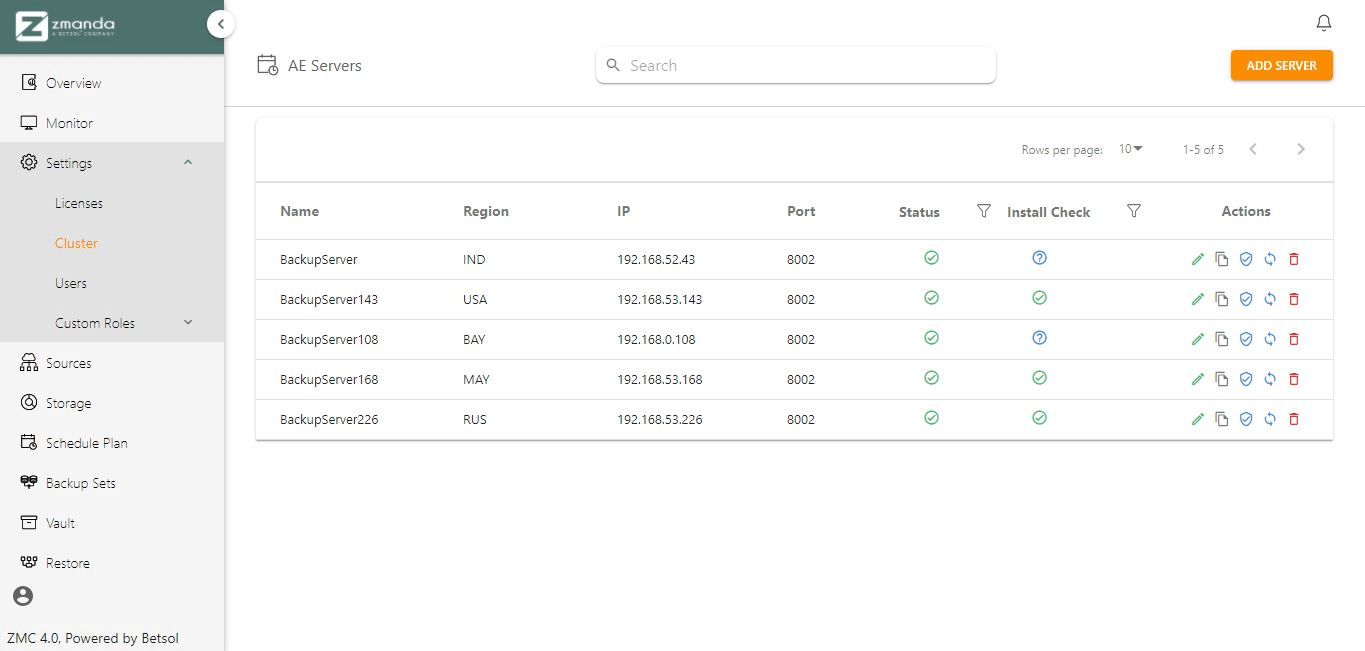 A Step-By-Step Guide to Backup Your Resources
Not sure how to go with the steps. We have the answer.
A solid understanding of these nine steps will serve as how-to guide for backing up easily based on your requirements:
To add the Server to the Cluster:
Go to Settings> From the drop-down, click on cluster> Click on Add server> Enter server name, region, IP address, Server Port Number>Click on Save. Once the server is added, you will see a tick mark under the status column.
To create a Storage Endpoint:
Add storage > Specify the storage type where you want to backup the data (Cloud/Legacy/Disk/Tape) > Name the server > Enter the storage type> Specify the server in which you want to backup > Name the storage > Click on save.
To create a Backup-set:
Go to backup-set>Click on add backup set>Select the device type>Select the end storage location>Select a backup schedule>Name the backup set>Click on save.
To associate Sources to Backup-set:
Go to sources>Click on add source>Select the source type (Filesystems /Databases/Applications /Hypervisor) >Under add a new source, name the source type, hostname, and directory path>Associate the source to the backup-set>Click on save.
To backup the Sources created:
Go to backup-sets>Click on configure button> You will see the backup-set details (Backup What/Backup Where/Backup Staging/Backup How/Backup When/Backup Now)
To create the Schedule Plan:
Add schedule>Enter the schedule Name, Date, Time>Specify the backup schedule (daily/weekly/monthly)>Schedule time>Click on save.
To associate multiple Backup-sets to the Schedule plan:
Go to backup sets> Edit the backup set that you have created>On the right column, select the schedule>Click on save. This will display the updated status of the backup-set. You will find that the backup is activated and displayed in green.
To start the Backup:
Click the green icon under immediate backup>Access the backup operations status from the Monitor tab. Once the backup is done, it will show success.
To view Reports:
Select the date from the calendar picker> Click on the "Fetch report" > Backup-sets statistics along with storage consumption details is displayed.
The Bigger Picture – Administrative Benefits
ZMC 4.0 is built upon a proven architecture. The ZMC engine supports a cluster set-up to link & manage multiple backup servers and database clusters. Such cluster level backups enable configuring and scheduling consistent backups of multiple servers using only one installation of the ZMC 4.0. Hence, you can configure multiple servers and storage tiers & add them to the cluster using the ZMC interface.
It would be unfair if you some of the excellent perks of the improve backup settings. Check out what the advanced 4.0 console has to offer:
High scalability. Since you can add as many server instances to the cluster as possible to meet the demand, this will increase scalability.
Load balancing support. You can achieve load balance for your workloads using server clustering. If one server breaks down, the group of servers handles the request. For example, web application within negligible downtime.
Perform large-scale backups, since cluster architecture can scale to larger limits when you add the backup systems to the cluster sets.
User-defined custom backups let you schedule thousands of backup-sets.
Increased performance & efficiency. You can maximize the overall performance as the workloads are intelligently distributed across the clusters. So now, you can run parallel programs among the connected nodes.
Time and cost savings with accelerated data backup taking the least amount of time.
Improved security with encrypted backups/restores right from in-transit to at rest.
Final Thoughts
If you are developing a solid backup strategy for your organization, it entails a huge investment of time, money, & effort. It's a no-brainer. But, you can get relief from the burdensome task of configuring a backup manually at specified intervals if the cost & time are less. Thanks to the multi-site cluster architecture and open-source backup solution offered by the new upgrade. Zmanda 4.0's intuitive web-based management console not only impacts the ease of use but also allows you to control your backup operations in minutes!
With enhanced 4.0 setup, the key benefit of faster setting up and scheduling backups is a clear technical advantage. Surely, this can save hours of essential resources while facilitating reduced RTOs.
It's a long way to go before we are finished with many more futuristic features in our pipeline. Are you ready to upgrade to Zmanda 4.0? Do take a demo of Zmanda 4.0 or request a free trial to learn the pace of our new release. Try Zmanda 4.0 for free Request Demo
---