Comprehensive Backup Solution for Linux Servers
Zmanda Server Backup is the simplest and most reliable backup solution for your Linux servers. Through automating many of the integration complexities and minimizing overhead for System Administrator, Zmanda becomes the ideal Disaster Recovery solution for your Linux Servers.
Now With Simplified Licensing
Audits available through Amanda.
Coverity Rung 2 Certified 
Homeland Security standard to certify products for Government use.
Brilliant & Seamless Integration
Zmandas Linux Server Client integrates seamlessly with Zmanda Management Console, handling many of the integration complexities and reducing overheads required by System Administrators. We also support a broad variety of backup mediums, spanning from cost-effective tape storage to modern cloud providers.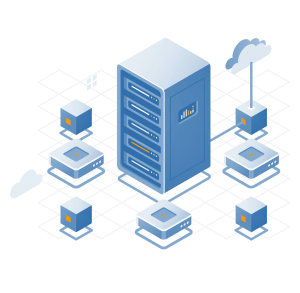 Intelligent Scheduling
A unique scheduler optimizes the backup runs to equalizes the total backup times from one backup run to the next. Network and hardware resources are used as efficiently as possible.
Manage Sparse Files
Optimize backup runs by using a Sparse file. Sparse files contain empty bytes that can be stored in the metadata and help reduce backup sizes.
Hybrid Cloud Backups
Seamlessly integrate with Amazon Web Services, Google Cloud Platform, Microsoft Azure, and many more for long-term-retention, disaster recovery, and cloud-native backups. Easily assign Legacy Tapes for Vaults for compliance and cost-benefit reasons.
Real-Time Optimization
Zmanda scheduler optimizes Backup Runs across multiple clients to use Network and hardware resources as efficiently as possible.
Seamless Restore
Linux files are restored using Zmanda Management Console or using amrecover command. Bulk restore to same/different hosts can be triggered using Express restore.
Simple, Flexible Backups
Supports full and multi-level incremental backups using industry-standard data formats such as GNU-tar and star for Linux.
Cross-Platform Restore
You can restore data from a backup to a host with a different operating system. That simplifies the disaster recovery process.
Manage Sparse Files
Optimize backup runs by using a Sparse file. Sparse files contain empty bytes that can be stored in the metadata and help reduce backup sizes.
Compression
Backup size matters. We thus use industry-standard compression algorithms, also preventing vendor lockins.
Encryption
With Zmanda, you can be sure that your data won't be accessed by someone who shouldn't have access to it.
Hybrid Cloud Architecture
Balancing workloads across multiple cloud providers shouldn't be complex. Zmanda ensures all configurations are seamlessly managed from a single console.
We pour our hearts into creating the most stable Disaster Recovery Solutions, and our Customers testify to our commitment.
Zmanda guarantees end to end data integrity and easy storage... They provide fixes for our issues and respond very quickly every time.
Marcin Mazurek, Infrastructure & IT Operations Director at Allegro
We have a stable system always updated. We sleep well.
Leonardo Corato, ICT manager at VDP Fonderia
As long as you're a little bit technical, I can't see any reason to use any other product than Amanda Enterprise
Johan Hybinette, Chief Information Security Officer at Schryver Medical
Frequently Asked Questions
Backups are important because they help prevent permanent loss of valuable data. Linux servers are mainly used in enterprises to power critical workloads as they are known for providing high-end security and resilience. This makes it imperative for system admins to know all their Linux server backup options to ensure valuable data is recoverable in times of human-made or natural disasters. 
Zmanda uses Server-Client architecture, allowing for easy scaling.
A central backup server is provisioned on a self-hosted system running Amanda Enterprise (a Zmanda Product).
The server is tasked with managing backup runs across all clients linked to that specific server. Backup runs and restores are also managed through this Amanda Enterprise Server.
Client binaries are then installed on systems that need to be backed up, allowing for easy addition of new client systems into the backup set.
If you are using Amanda Enterprise - Recovering after a disaster is easy. The admin has to login to the Amanda Enterprise Server and locate the backup set, which contains the machine id to be restored. Once the Backup group and Machine ID are found - the admin has to decide if they want to restore data to the same machine or if they want to recover it to another system. Post that, the admin has to follow simple onscreen instructions to perform the restore.
Absolutely. Using Zmanda - the Linux Server system state is captured allowing for an easy recovery process. 
To enable IT to test Zmanda on demo environments - we offer a fully licensed version of Zmanda for 14 days. Please fill out our Free Trial form, and our sales team will help you get started. 
Developed by Engineers passionate in making the Best Disaster Management Solutions.
Audits available through Amanda.
Coverity Rung 2 Certified